For DataChem Laboratories, precision mass flow is crucial. DataChem, originally established in 1973 as part of the University of Utah's Research Institute, has grown into a world respected analytical testing laboratory. They have the important job of testing and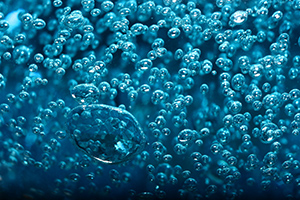 identifying harmful industrial and environmental toxins—from lead paint found on our children's toys to methamphetamine dust found in suburban homes that were once operating as meth labs.
In 1999, Steve Olsen, the Engineering Manager for their gas chromatography lab, noticed that he was spending exorbitant amounts of money purchasing P-5, an exact 95% argon and 5% methane gas blend from an outside vendor. P-5 gas is a critical gas used in their gas chromatograph to detect trace elements of chlorinated compounds in parts per billion.
SIERRA'S SOLUTION
Noticing their large expense in gas costs, Steve Olsen decided to make a change. He installed Sierra's SideTrak® 830 meter in his dynamic gas blender to accurately measure the argon flow rate based on demand. He installed the 840 mass flow controller to inject the 5% methane into the batch, which is 5% of the mass flow rate of argon, thereby maintaining a consistent gas ratio regardless of usage. Vern Bollinder, the current Senior Engineering Manager, still uses this solution to dynamically blend P-5 in-house. Like Olsen, Bollinder is delighted with the accuracy and speed of Sierra's instruments.
For Bollinder, accuracy is so critical when blending P-5 that if the ratio of argon to methane rate varies 0.25%, an alarm will sound. And more importantly, if the gas ratio is off, their dynamic gas blender will stop mixing P-5 and the batch will be lost.
For nine years now, both Olsen and Bollinder have benefitted from this ideal gas blending flow solution. The SideTrak® 830 is engineered to precisely measure the mass flow rate of process gases, and the 840's powerful servo-control valve offers precise, instantaneous control of gas delivery to a batch—as much as you need for as long as you require.
With Sierra, Bollinder doesn't need to purchase and constantly switch out gas cylinders from an outside vender. As a direct result of Sierra's gas blending solution DataChem has saved close to $50,000 per year.
Sierra's SmartTrak® 100 Mass Flow Controller, the next generation upgrade, is currently being reviewed by DataChem to make their gas blending capabilities even more efficient.
Here's what makes Sierra's SideTrak 840 an ideal choice:
One of the worlds most dependable analog mass flow controllers
Precise primary standard calibration to measure any clean, dry gas with low pressure drop
Highly accurate for oxygen, mixtures, toxics, corrosives and combustibles
Widely used in process control, leak detection, gas distribution and scientific research