The U.S. government now recognizes that black carbon soot is the number two cause of climate change and the most important component of air pollution affecting our public health. This soot, caused mainly by the burning of fossil fuels and firewood, is often found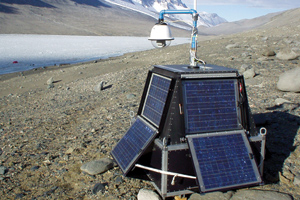 in huge smog-like plumes known as "atmospheric brown clouds."
According to a report commissioned by the U.N. Environment Program, this emissions mix of carbon dioxide and other gases are the newest threat to the global environment. In order to sample and collect scientific data from these clouds, there is a clear need for continuous, real-time optical measurement of the particles that make up these clouds at multiple wavelengths.
SIERRA'S SOLUTION
In 1994, Dr. Tony Hansen, the founder of Magee Scientific in Berkeley, California, developed a device called an Aethalometer® for soot particle collection and measurement. Magee Scientific's Aethalometer® is housed in a small case with a speed-controlled pump, Sierra's TopTrak® 824 Mass Flow Meter, filter, optical chamber and an LED light source. Users can punch in a mass flow rate from 2 to 5 minutes per liter on the Aethalometer's screen.
Once the signal is set, the TopTrak measures the mass flow rate of ambient air pumping through the system, which is adjusted with a speed-controlled pump in a closed loop system. This provides a constant mass flow rate of ambient air. Dr. Hansen explains that "the computer in our instrument controls the speed of the pump, so we achieve closed-loop flow control."
As this air stream is pumped through the optical chamber, black carbon particles collect on the filter and are optically measured, giving the real-time mass concentration of these carbon particles from tens of nanograms per cubic meter to hundreds of milligrams per cubic meter. Because he conducts end-to-end calibration on the entire Aethalometer® before it reaches his customers, Dr. Hansen attests that scaling accuracy of the meter is not as important as reliability. "It works great. What more can you ask for?" says Dr. Hansen of the TopTrak.
Sierra was the first to introduce an accurate yet economical mass flow controller for accurate mass flow measurements of air, oxygen and other common industrial gases with an LED display in the mid-1980's. The TopTrak is small, removable and portable, so it can easily be moved to a different set of pipes when needed. TopTrak has become the standard in the industry for those wanting a low-cost mass flow meter as an alternative or replacement for lower accuracy volumetric variable-area flow meters.
Here's what makes Sierra's TopTrak 824 an ideal choice:
Economical analog mass flow meter
Measures flow ranges from 0-10 sccm to 0-50 slpm
Accuracy of +/- 1.5% of full scale
Large tiltable LCD readout (822)
Use with ALL inert gases & mixtures
"Primary Standard" calibration for best accuracy & NIST traceability