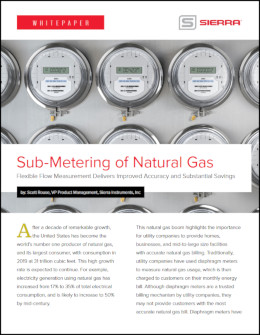 Traditionally, utility companies have used diaphragm
meters to measure natural gas usage
, which is then charged to customers on their monthly energy bill. Although diaphragm meters are a trusted billing mechanism by utility companies, they may not provide customers with the most accurate natural gas bill.
Learn about how new technologies improve sub-metering accuracy which saves thousands.
Interested in our natural gas meters for sale? View our gas meter inventory to find the right one for your gas application.
Benefits of thermal mass flow meters for gases:
Direct mass flow measurement of gases eliminates the need for temperature or pressure compensation
Accuracy +/- 0.5 percent reading; high flows 60,000 sfpm (0-305 smps); 100:1 turndown
Multivariable: Mass flow rate, temperature & pressure
Advanced four-sensor "dry sense" technology minimizes drift and enables field validation
Insertion version with hot tap capability for easy installation
Software applications for easy set-up, in-situ calibration, dial-a-pipe, and gas mixing
Digital communications suite