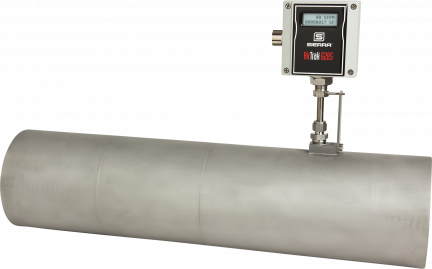 Engine Intake Air Mass Flow Meter
AirTrak™ 628S
Ensures accurate and repeatable engine air intake mass flow measurements
Increase efficiency with fast response time within 200 milliseconds to changes in flow
High performance in constrained piping with flow profile conditioning elements inside the flow body
Increase flexibility with wide turndown range
Content Sections:

Overview
Product Benefits
Specifications
Documents & Downloads
Industries

---
Overview
AirTrak is a thermal mass flow meter specifically designed to measure engine air intake mass flow rate. The instrument is:
Ideal for the toughest transient test cycles where flow excursion can approach 10:1 within less than two seconds
Uses extremely sensitive, 200-millisecond response-time thermal insertion sensor
A flexible solution for constrained piping environments commonly found in today's engine and vehicle test facilities with integral laminar flow conditioning inside the flow body and wide 15:1 turndown
Operating Principal: Thermal dispersion technology for direct mass flow measurement featuring no pressure or temperature compensation needed, no moving parts, low pressure drop, high turndown. Watch the video...
Product Benefits
Specifically designed for engine intake air mass flow rate applications
Outstanding 15:1 turndown for high accuracy at low idle conditions
Smart electronics permit field adjustment of critical flow meter settings
Programmable pulse output for remote totalization
Minimal flow blockage and low pressure drop
Field flow-range adjustment, meter validation and diagnostics
Program transmitter via RS-232 using free user software or with three push-button display interface
Sierra's state-of-the-art ISO 9000 calibration facility matches each application for best accuracy

•

Flow-range adjustment, and validation and diagnostics
Field Validation/Configuration to assure operating performance
Flow totalizer and alarms
2 x 12 backlit LCD display totalizer values
Remote enclosure mounting available
No moving parts
Free computer interface software: Download now
Specifications
Measure engine intake air and all clean inert gases
Accuracy: +/- 1% of full scale
Repeatability of +/- 0.2% of full scale
Response time 200 milliseconds to achieve 63% of final value
Pipe sizes from 1.5" (3.8cm) up to 8" (20.3cm)
Flow range maximum 30,337 lb/hr (13,779 kg/hr)
15:1 turndown
Temperature:

Gas: -40°F to 176°F (-40°C to 80°C)
Ambient: -40°F to 120°F (-40°C to 50°C)

Power supply 15 to 18 VDC (regulated), 625 mA draw maximum
Output signals: Linear 0–5 VDC and 4-20 mA
User definable pulse output for totalized flow
Digital communications solutions include: Modbus RTU
Enclosure NEMA 4X (IP65); remote electronics mounting available
CE approved