Official Blog of Sierra--Let's Talk Flow!
Delivering an Award-Winning Engine Test Facility
---
Feb 05, 2016
Across Sierra's two divisions, Flow Measurement and Automotive Test, striving for the ultimate in accurate and repeatable measurement and control is the name of the game.  We have focused a lot on trying to publish useful and informative Flow Measurement and Control blogs. After all, that makes sense as the blog is called "Let's Talk Flow."
I wanted to contrast a bit in today's blog to illustrate our drive for precision measurement and control in a totally different and rapidly growing industry–Automotive Test.
When Intertek, formerly Tickford, approached our Automotive Test Division (also known as Sierra CP) about a major expansion of capabilities at their recently acquired test facility in Milton Keynes, UK, Sierra was ready for the challenge. Now fully commissioned and operational, the new facility recently beat all global competition to win the prestigious 2015 Engine Test Facility of the Year Award presented annually by Automotive Testing Technology magazine.
The Intertek project was part of a $9 million investment to build state-of-the-art, high-specification 1000 kW test cells and associated infrastructure. The facility operates 28 engine and driveline powertrain test cells on a 24/7 basis on engines ranging from the smallest non-road engines up to the largest heavy-duty vehicle engines.
The Sierra CP team worked side by side with Intertek to deliver a strategically critical investment in test capability, covering the complete scope of automotive test applications: engine, vehicle, powertrain, transmission, emissions and component testing.
We felt privileged to be trusted to deliver this strategically critical investment in test capability for Intertek.  We firmly believe that the close working partnership we established with the team at Intertek was a significant factor in the success of this project, incorporating necessary flexibility into the project, and collectively optimizing the design. This goes to the heart of our working style.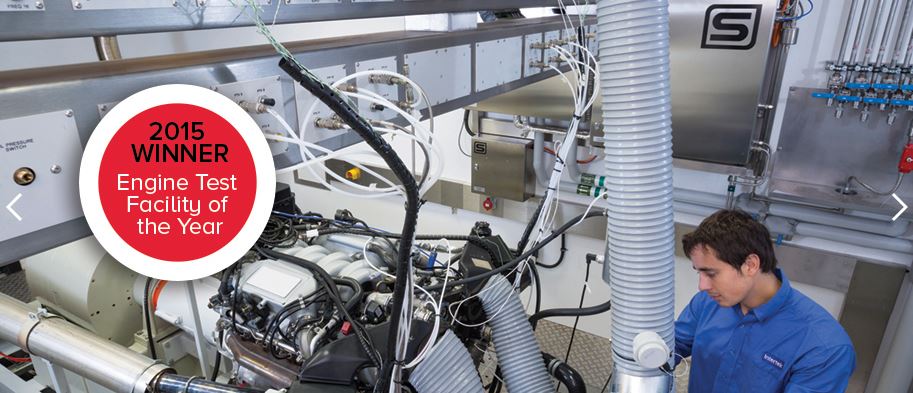 Commitment to Excellence
Sierra CP designed and constructed six highly configurable new test cells to meet Intertek's requirements for the development of advanced engines and powertrains, including hybrids and EVs. Intertek's primary focus is on high-performance engines typically associated with luxury and performance type vehicles. Learn More.
It is our core belief that each facility we help design and construct must reflect the client's brand at the highest level in look and feel. It must then be backed up with excellent testing performance. For the Intertek project, Sierra CP held a single-source contract for:


Facility design and construction management


Equipment specification and manufacture, procurement and installation


Integration of equipment and facility systems


Commissioning


Long-term maintenance and support


In addition, all major civil construction was implemented with minimal operational disturbance of the client's existing operational test cells. The result is a new facility that is now recognized as one of the highest specification, commercially available facilities in Europe and quite possibly the world.
At the core of this collaboration and all of Sierra's partnerships across both of our divisions–Flow Measurement and Automotive Test, is a willingness to work collectively with our client to optimize each solution while also maximizing flexibility.
How can we help with your next flow measurement or automotive test challenge? Find out more about this project and other successful Sierra collaborations by reading our case studies.
---