Official Blog of Sierra--Let's Talk Flow!
Three Easy Steps to Leak Testing with a Gas Mass Flow Meter
---
Nov 15, 2011
Leak detection can be easy, but in the "good old days" (which some of us may still be living in today), leaks were time-consuming to find and fix. Let's compare how to find a leak the hard way, and then I'll show you how easy it can be to automate the process with a mass flow meter.
Detecting a Gas Leak the Old-fashioned Way
Assume you have a product that must not leak. Leak detection can be performed by filling the device (a positive shut-off valve, for example) with a given amount of pressure, as measured with a pressure gauge or transducer. You would then shut off the flow and watch the pressure indication over a period of time to determine if the rate of 'pressure decay' is an acceptable amount or not.
That works fine, but it can be very time consuming, depending on the volume of the device and associated plumbing. And, if the test time is too short, the target leak rate too low, and the decay not large enough to get an accurate pressure reading, the results can be erroneous.
Three Steps to Easy Gas Leak Detection with a Gas Mass Flow Meter
Using the same example above where a shutoff valve is the device under test (DUT), let's see how leak testing is performed with a digital gas mass flow meter.


Put a mass flow meter in series with the DUT. This might cost more initially, but will pay for itself in the long run via improved quality and throughput.


Fill the DUT with gas using a bypass line around the mass flowmeter.


Shut off the bypass line once the valve has reached the proper pressure. The mass flow meter is so sensitive to even the smallest gas flows at the molecular level, you can almost immediately pass/fail  the DUT to the specified amount of allowable leak-by.


Automate Gas Leak Detection with a Digital Mass Flow Meter
Many of our customers choose to further increase their throughput by automating their leak detection system using a Sierra's Smart-Trak mass flow meter and controller with a Compod programmable control module.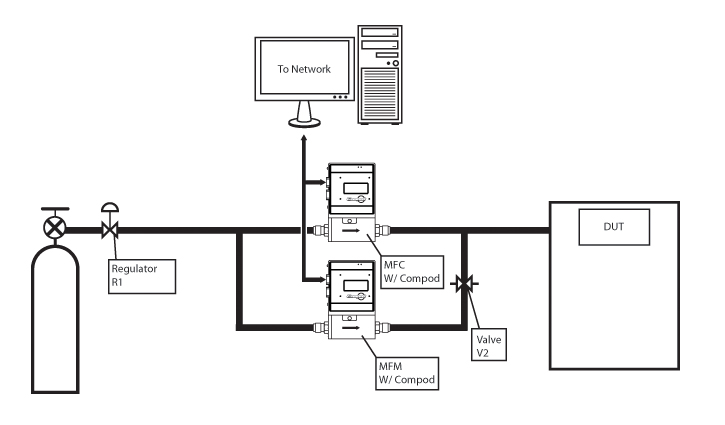 Sierra Instruments offers a complete line of economical air flow meters, premium digital mass flow controllers and analog mass flow meters. Any of them can help you detect gas leaks quickly and precisely.
---