Official Blog of Sierra--Let's Talk Flow!
Take Charge of Your Facility's Water Usage…
---
Oct 27, 2014
Water is a precious resource! Now, more than ever, businesses and facilities must take charge of their water usage to help with water conservation and lower water bills. Water conservation begins with knowing exactly how much water you are using in your process or facility. When you know how much water you are using, you can adjust your usage to both aid water conservation and lower your water bills.
There are many types of liquid flow meters on the market that use a variety of technologies for accurate measurement.  In general industry, for very accurate closed pipe water measurement magnetic flow meters, vortex flow meters, and ultrasonic flow meters are very common.
Since the introduction of ultrasonic transit-time flow meters, manufacturers have continually improved their measurement and signal processing capabilities. Recent advances in digital correlation transit-time technology allow customers to use this convenient, non-intrusive installation to address some of the more challenging flow applications.
Ultrasonic flow meters are divided into two measurement technologies: Doppler & transit-time. These technologies are available in two styles: 1) clamp-on (non-intrusive to the piping system) or 2) wetted (inserted into the pipe with the sensors exposed to the flowing fluid). Traditionally, magnetic flow meters have been used in water and waste water applications. If ultrasonic flow meters were used at all, they were typically based on Doppler technology. However, with advances in signal processing and more powerful transducers, transit-time technology has far surpassed earlier predecessors in measuring these commonly "dirty" flows.

Transit-time Ultrasonic Flow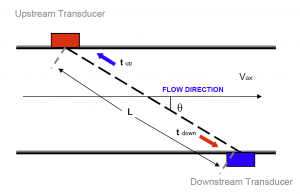 Meters Explained
In a transit-time ultrasonic flow meter, an ultrasonic signal is transmitted in the direction of the flowing fluid (downstream), and then another signal is transmitted against the flowing fluid (upstream). This is illustrated in the figure. In its most basic form, the time for the sonic pulse to travel downstream is compared to the time for the pulse to travel upstream. This differential time is then used to calculate the velocity of the flowing fluid.
Some things to consider when you're looking for an ultrasonic flow meter that delivers precision results:


Portable. For fast, easy, precise measurement of a wide range of liquid flows and temperatures, clamp-on, transit-time ultrasonic portable flow meter products are ideal for most applications

Low power consumption. Instrumentation uses minimal power to provide the flow measurement results you need.


High reliability. Companies like Sierra have a long history of liquid flow measurement manufacturing.


Competitive pricing. Transit time flow solutions don't have to be costly to be accurate.


Easy-to-read display. See readings quickly to easily adjust water flow.


Clear menu selections. Take the guesswork out of accurate readings with user-friendly navigation.


Sierra's InnovaSonic digital liquid flow meters deliver all of the above for highly accurate and repeatable water flow measurement. The 203, in particular, is ideal for pipes up to 48 inches and features precision readings with accuracy to +/- 1.0% of reading from 1.6 to 40 ft/s, repeatability of +/- 0.3%, and a temperature range of 32°F to 140°F.
Water is precious, so start conserving now. Order your InnovaSonic 203 online today for fast one-day delivery.
---