Official Blog of Sierra--Let's Talk Flow!
Mass Flow Controllers Support Ventilator Testing
---
May 21, 2020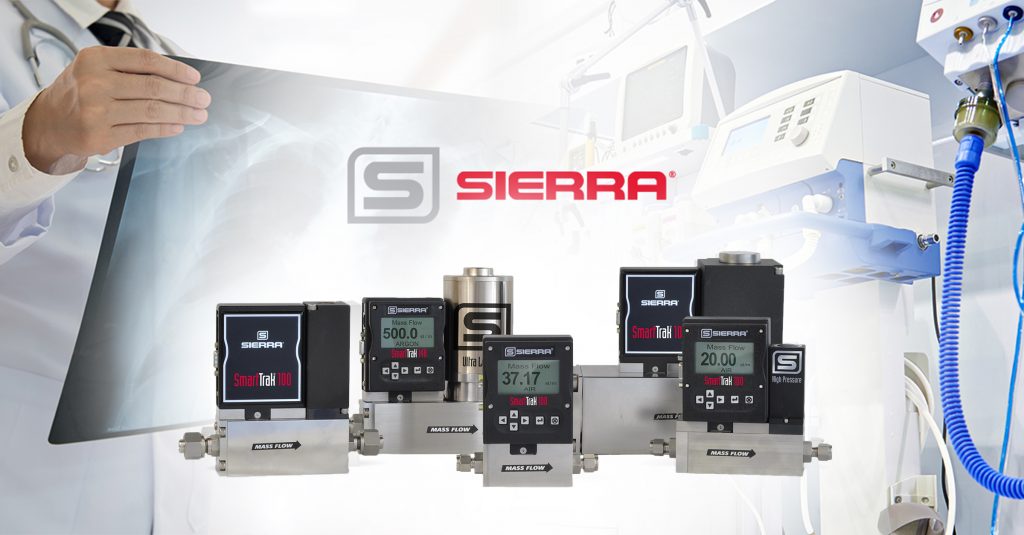 Precision Mass Flow Control Validates Ventilator Accuracy
It's actually a life and death matter, and we take this very seriously. Accurate mass flow control is crucial in the process of validating the accuracy of oxygen flow for mechanical ventilators and respiratory medical equipment. Ventilators are designed to pump oxygen into a patient that is breathing insufficiently or unable to breathe on their own. A ventilator machine moves air into and out of a patient's lungs to ensure their body receives the oxygen it needs to survive, and hopefully recover from the effects of the COVID-19 virus.1  To make sure patients are getting the exact amount of oxygen needed, in the field ventilators must be meticulously validated to each flow range in order to be effective.
Proven & Accurate Testing for Respiratory Equipment You Can Trust
With over 20 years of proven performance, Sierra is known for providing scientists with precision mass flow control and the ultimate lab research flexibility.  Every Sierra SmartTrak 100 has a wide operating flow range and pressure requirements and is pre-programmed for up to 10 gases that are field selectable. Because of this, Sierra's SmartTrak is used as a validation standard in order to verify that the ventilators are performing within specification. For ease of use, scientists can easily change set points, flow rates, engineering units on directly on the push-button display or remotely with the Pilot Module. For particularly challenging applications, Sierra's dedicated engineering team can provide custom engineering solutions to meet precise customer requirements.
The heart of the SmartTrak 100 mass flow controller is a platinum-wound capillary sensor that directly measures thermal mass flow. Sierra's patented laminar flow element eliminates non-uniformities and conditions the flow in the capillary sensor into stable laminar behavior where mass flow measurement occurs.
Key SmartTrak 100 Features


All clean gases including toxics and corrosives


Accuracy – Standard: +1.0% of full scale, High Accuracy – Up to +0.5% of full scale


Repeatability – +0.2% of full-scale


Multi-Gas – Preprogrammed for up to 10 gases – Field selectable


Flow Range – 0 to up to 1,000 slpm


Local/remote display and pushbutton interface



Learn how Sierra's mass flow controllers are used to accelerate Bioprocessing from Pilot to Full-Scale Production.
 Resources


Sonas Home Health Care, June 28, 2018,  "What is a Mechanical Ventilator?" https://www.sonashomehealth.com/medical-ventilator/ .


---