Official Blog of Sierra--Let's Talk Flow!
New QuadraTherm Thermal Flow Sensor Makes It Possible!
---
Nov 13, 2012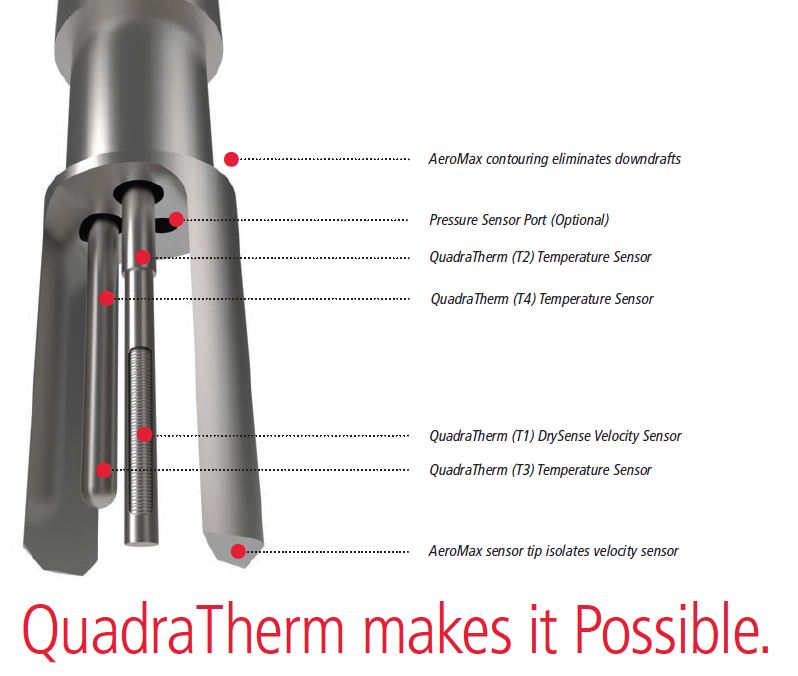 Patented QuadraTherm's Four-Sensor Design
A major thermal sensor breakthrough for Sierra occurred with QuadraTherm, as two new temperature sensors (T2 and T4—see figure below) were added to the existing two-sensor design (T3 temperature & T1 DrySense velocity) used in previous flowmeter models.
The two additional sensors perform real-time correction for the heat lost to the outside environment due to a phenomenon called "stem conduction." To better understand the benefits, let's look at a typical example.
Let's say the temperature of the flowing gas is higher than the outside temperature. In this case, stem conduction causes a substantial fraction (between 10% to 25%) of the electrical power supplied to the heated velocity sensor to be lost through the probe shaft to the outside environment.
What happens if this is a traditional two-sensor thermal mass flow meter and the outside temperature in the field application drops by a few degrees? The heat lost via stem conduction will increase and a flow measurement error will occur.
QuadraTherm eliminates this source of error by first accurately measuring, and then correcting for, the heat lost via stem conduction.
I am proud to say the never before possible, is Now Possible with QuadraTherm 0.5% of reading accuracy.  Learn more…
---