Official Blog of Sierra--Let's Talk Flow!
Sierra Introduces the New TM100™ and TM500™ Thermal Mass Flow Meters for Industrial Processes
---
Oct 23, 2023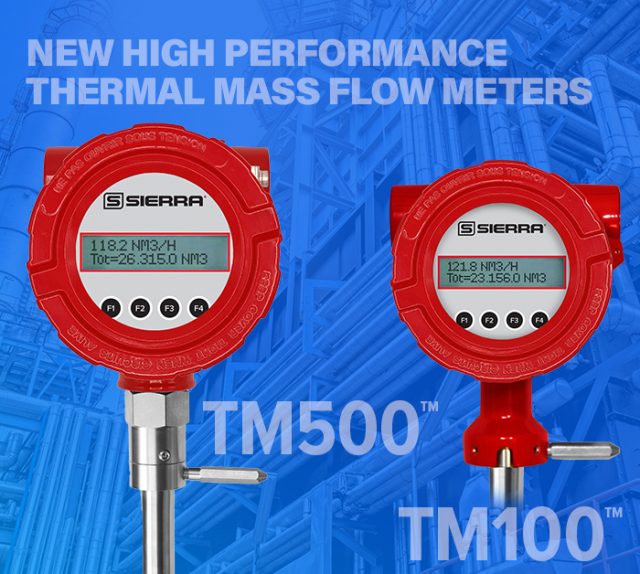 Sierra is committed to being Measurably Different, and 50 years marks the beginning of a new era in flow measurement innovation.
Our new TM100™ and TM500™ high-performance thermal mass flow meters were designed and built to expand the Sierra lineup to provide a broader range of power and value for industrial processes. The meters feature precision gas flow measurement, field flexibility, and delivery as fast as one week.
Both the TM100 and TM500 utilize DigiSense™, Sierra's state-of-the-art sensor technology. Unlike other thermal flow sensors, it interfaces directly with its microprocessor for greater control, precision, and programmability. DigiSense accurately responds to changes in process variables (gas flow rate, pressure, and temperature) to determine mass flow rate, totalized flow, and temperature. DigiSense's correlation algorithms allow the meter to be calibrated on a single gas in the factory while enabling the user to select other gases in the Gas-Mix menu.
Delivering Power— TM500
The Sierra TM500 promises precision, speed, and the field flexibility you need to adjust gas mixes and configure meter settings to maintain optimum process efficiency. The TM500 is ideal for:


Facilities management


Chemical plants


Gas Refineries


Petrochemical production and more


TM500 Features
Precision 


+/- 1.0% of reading plus +/- 0.2% of full-scale – Air, Nitrogen

+/- 1.5% of reading plus +/- 0.5% of full-scale – All other gases


Repeatability +/- 0.2% of full scale


Inline, Insertion, and remote versions


Velocity range: 0 to 45,000 sfpm


AC or DC power


Direct gas mass flow measurement


Field Flexibility 


Optional Gas-Mix feature to easily change gas selection or create gas mixes in the field – no recal required (14 gases)

Sensor (Calibration) validation with TM-CAL


Delivery 


Delivery as fast as one week


Delivering Value —TM100
The TM100 delivers amazing value to end user's burner and combustion applications, natural gas and pure gas monitoring, and compressed gas and packing leaks.
 Benefit from all the features of the TM500 except for: 


No remote capabilities


Flow range is 0 to 25,000 sfpm


DC power only


Optional Gas-Mix feature (12 gases)


Discover More.
---