Official Blog of Sierra--Let's Talk Flow!
Stop Getting Steamed (Part 2): Easy Vortex Flowmeter Retrofit
---
Jun 05, 2012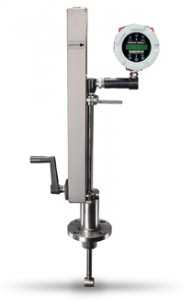 In my last post, I outlined problems you may be facing if you need to measure superheated steam accurately, and I promised to share a success story about our Innova-Mass multivariable vortex flow meter.
A district energy provider for a Midwest city had hot air problems. Their old shunt meters were wearing out and leading to high maintenance costs and increased downtime. After considering several alternatives, including a standard volumetric vortex meter, they decided to try our insertion-type Innova-Mass because it simultaneously measures three process variables: velocity, temperature, and pressure (VTP) using one process connection. This allows real-time calculation of true mass flow.
Insertion vortex flow meters have seen limited use because they measure velocity at only a single point and are, therefore, greatly affected by flow profile. The Innova-Mass solves this inherent problem by measuring the Reynolds number in real-time, calculating a dynamic flow profile and determining correction algorithms for the point velocity. This provides a reliable insertion meter for very large pipes where an in-line flowmeter would likely be much too costly. Since everything is calibrated together in the Innova-Mass, complete system accuracy is very high — better than +/- 2.0 percent of reading accuracy and +/- 0.2 percent repeatability is the norm.
They easily retrofitted our Innova-Mass flow meter into existing steam lines and could directly measure mass flow with no extra equipment and no moving parts. By replacing the old shunt meters, this Midwest energy provider saved approximately 35 percent annually in maintenance costs and saw a 25 percent increase in billable steam flow. Clearly, a vortex flowmeter makes cents in steam applications!
---