Official Blog of Sierra--Let's Talk Flow!
Understanding Flow Profile in the Real World
---
May 05, 2011
From my experience in the field, I have seen widespread misunderstanding of the physical phenomenon of "flow profile."  Since our industrial flow meters actually measure flow at one point, an understanding of flow profile is critical.  The average user imagines that the flow in a pipe is uniform.  This is a flawed thought, and never true in real life.  When ever possible, a customer should be advised to place the flow meter near the end of a long straight run of uniform diameter pipe.  In many cases, this is not possible, because there are no long straight runs of pipe.  In the much more common case of a short straight run downstream of an elbow, it is important to place the flow meter in the same plane as the elbow.  Since the elbow distorts the flow profile downstream, it is advisable to perform a "traverse" if at all possible.  More on traversing a flow meter later….
To help solve flow profile issues and reduce pipe run requirements, for many years now, we have manufactured dual-plate flow conditioning elements as a stand alone technology as well as integral flow conditioning inside the flow body of our model 780S thermal mass flow meter–this VIDEO  illustrates how the flow conditioning elements work.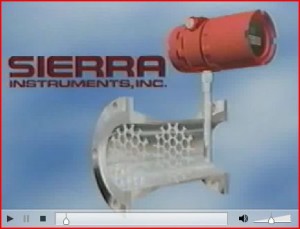 ---