Monterey, California — November 5, 2015 —Sierra Instruments proudly introduces their InnovaMass 240i and 241i vortex mass flow meters. Their iSeries has been specifically designed for precise flow energy management in steam, compressed air, natural gas, and water applications. Capable of measuring five process variables with one instrument, the InnovaMass flow meters now feature their revolutionary Raptor II operating system, providing end-users with flow measurement precision that promises to reduce energy costs and increase productivity.
"Sierra's new InnovaMass iSeries vortex flow meter is a game changer in the industrial flow measurement market," says Matthew Olin, Sierra CEO. "The powerful combination of our Raptor II OS, which runs apps like FloPro and Dial-A-Fluid, and our robust Smart Interface Portal (SIP) software make InnovaMass the most precise and easy-to-use vortex flow meter on the market. Now end users can quickly make informed decisions about their flow energy usage in the field, helping to make comprehensive flow energy management a reality for their company."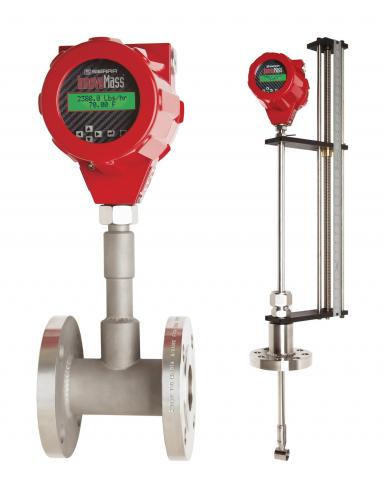 Forms of energy in flow include heat energy (BTU or joules) in steam or water, the potential combustive energy in natural gas, and the potential expansion energy in compressed air, to name a few. The reinvented InnovaMass 240i and 241i deliver a revolution in flow energy management by maximizing measurement precision through the following new iSeries features:
Flow Energy Calculations: AGA8 natural gas, steam enthalpy, thermal energy/BTU
Raptor II OS microprocessor is 10x faster to run robust software applications
FloPro™ software application improves point-velocity accuracy for insertion version
Raptor II OS Flow Engine and patented MassBalance™ sensor technology extends range down to Reynolds numbers well below 5000
Easy to use field diagnostics, validation, and adjustment through onboard Smart Interface Portal to increase efficiency in the field
Complete suite of digital communications for turnkey networking & automation
The onboard Smart Interface Portal (SIP) software allows end-users quick access to field validation and meter configuration. Access ValidCal Diagnostics through the SIP or meter LCD display to automatically check the flow meter's firmware and hardware and report faults to the factory for immediate repair. MeterTuning from the SIP or local display allows field adjustments for the low flow cut off and vortex coefficient Ck. Through the SIP, InnovaMass' firmware can also be updated or repaired in-situ (in-the field), saving time and money.
The new InnovaMass 240i and 241i iSeries are ideal for saturated or superheated steam, gas, and liquid applications and measures mass and/or volumetric flow rate. Other specifications include:
Insertion version for 2 inch (50.8 mm) or greater; inline to 8 inches (DN 200)
Accuracy of up to 0.7% of reading; temperature to 392°F (200°C); pressure to 1500 psig (103 barg)
Raptor II OS and MassBalance technology extends range down to Reynolds numbers well below 5000
Raptor II OS Flow engine delivers apps: FloPro, qMix, Dial-A-Pipe, Dial-A-Fluid
Smart Interface Portal (SIP) assures field validation with ValidCal Diagnostics & MeterTuning and allows for easyDatalogging capability
Three configurable 4-20 outputs
HART, Modbus, Profibus DP, Foundation Fieldbus, USB, RS-232
State Approvals: CE, cFMus, ATEX, IECEx
For fast delivery, buy the fully configurable InnovaMass 241i insertion vortex flow meter.


About Sierra
A global leader in flow measurement and control for over 40 years, Sierra instruments designs and manufactures high performance flow instrumentation for gas, liquid and steam applications commonly found in the scientific research, oil & gas, energy and semi-conductor industries. With over 150 offices in 50 countries, Sierra is uniquely positioned to provide their innovative products and lifetime support for the leading companies of today and the growth enterprises of tomorrow.