Early developments in the evolution of mass flow meters in the 1950's were largely driven by the need for highly accurate readings. Over the last 50 years the demand for substantially reduced margins of error has only intensified.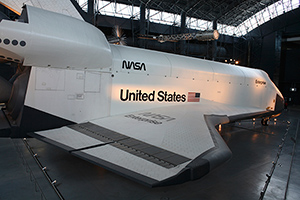 For the last 25 years, NASA has relied on the accuracy of Sierra's SideTrak® 830/840 thermal mass flow meters to get the right mixture of nitrogen, argon and oxygen to their shuttles during ground testing. Ten years ago, Steve Chism, a sales agent for Sierra in Orlando, Florida, identified a way NASA could upgrade the technology they were using to maintain positive space shuttle cargo door air flow on re-entry.
SIERRA'S SOLUTION
Steve was convinced that Sierra's FlatTrak® 780S thermal mass flow meter was ideal for this mission-critical function. Small, compact, accurate and easy to move from shuttle to shuttle, NASA agreed to give the 780S a try and was immediately delighted with its performance. However, within six months a red flag went up when a third party calibrator reported a 10% margin of error. Sierra immediately hired CEESI, a world renowned calibration consultant in Colorado, to conduct an in-depth field test. CEESI determined conclusively that Sierra's meters performed well within specifications.
This new series of meters allows customers to field-validate instrument performance. Starting-point accuracy is built-in at the factory where each meter is calibrated. That data is then stored in the meter's microprocessor. In the field, validating is as simple as comparing the meters sensing element reading to data stored in memory. Specialized software allow users to troubleshoot, validate and re-configure from a PC.
NASA's new Constellation project includes the combination of large and small systems that will make it possible for them to travel and explore the solar system in the next decade. Sierra's popular SmartTrak® 100, the next generation upgrade for their
SideTrak® 830 and SideTrak® 840's, is currently being reviewed by NASA for the role it will play in their vision.
Here's what makes Sierra's FlatTrak 780S an ideal choice:
Measures mass flow directly with one meter
100:1 turndown for accurate monitoring of peak and low flow situations
In-line flow conditioning eliminates piping straight-run requirements
Removable probe for easy cleaning
Generates minimal pressure drop across the instrument