Official Blog of Sierra--Let's Talk Flow!
Flowmeter Reliability and Service Win with Wastewater Biogas Plant
---
Aug 23, 2012
The old maxim – waste not, want not – has taken on a whole new meaning in places like the Santa Cruz Wastewater Treatment Facility, located near Monterey Bay in Northern California. At the plant, digester gas, a by-product of sewage decontamination, is captured and mixed with natural gas to form a type of biomass, one of today's most innovative forms of renewable energy and environmental protection. Santa Cruz biogas produces 9.5 million kwH of electricity each year – enough to power about 3000 homes at an anticipated savings of more than $20,000 per month.

Flow Meter and Vendor Reliability a Must
However, this state-of-the-art biomass technology also presents some challenges, including dependable, accurate gas measurement. And even though most wastewater treatment plants switched from problematic differential pressure devices to thermal flow meters years ago, lowering maintenance costs associated with the bioenergy process remains a critical objective for individuals like Al Locatelli, Santa Cruz co-gen and stand-by generator specialist.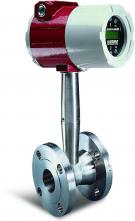 Locatelli and others were frustrated by a lack of customer service from their thermal flowmeter vendor. So, Santa Cruz turned to a Sierra Instruments' sales representative from Manco Controls, who installed an InnovaMass Model 240 Inline Multiparameter Vortex Mass Flow Meter to measure the natural gas used in their cogeneration system.
Thanks to the success of the initial application, the Santa Cruz facility has been using nothing but Sierra vortex and thermal mass flow meters since 2007, including our air inline flow meter, the SteelMass 640S,  and inline mass flow meter, FlatTrak™ 780S, for increased cogeneration accuracy.
"Other vendors sell you something, and you never hear from them again to help you out," says Locatelli. "Sierra and Manco Controls have been pretty unique both in response time and reliability."
Read the complete Santa Cruz story in Water and Wastes Digest or contact us or one of our representatives for more information. And, find out how you could slash your facility's natural gas bill in our sub-metering infographic.
---