Official Blog of Sierra--Let's Talk Flow!
Why Mass Flow Controllers are Replacing VA Meters in Bioreactors
---
Aug 21, 2020
Upgrading to A Gas Mass Flow Controller Provides Greater Reliability for your Bioreactor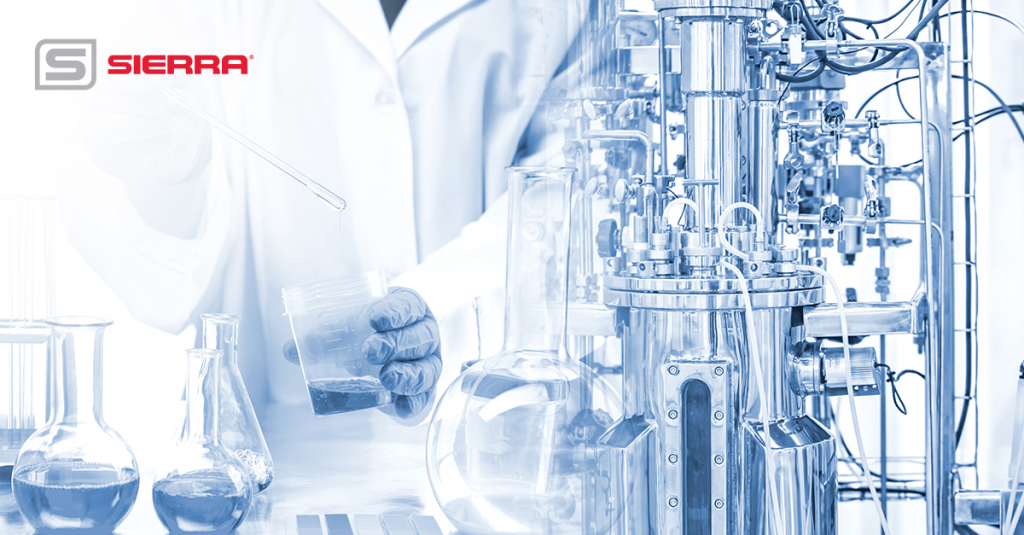 When it comes to efficient bioreactor performance, precision mass flow control gas is critical. It is essential that bioreactor manufacturers have reliable, repeatable, and flexible gas supply systems for their bioreactors.  Due to the ever-evolving demands and critical and complex nature in the bio-industry, VA meters commonly used in this application are no longer suitable and bioreactor manufacturers are now turning towards mass flow controllers to strengthen their process.
Bioreactor Application Challenges
Reliable and stable control of the supply of oxygen to the bioreactor is a complex process. The metabolism of the microorganisms is dependent on the dissolved oxygen concentration, so that a precise gas flow control is critical. Therefore, the oxygen concentration must be lowered or increased as required (mixture of N2 or O2).
Another important variable is the pH value. For microbial bioprocesses this is done with the addition of liquid acids and alkalis. For cell cultures, on the other hand, one uses only liquid alkalis. The liquid acid can damage the cells so you use CO2 instead of liquid acid. There are many different bioreactor processes and each has its specific reason to use and control gasses, but they all require precision gas flow control for optimal metabolism of micro-organism which is essential to vaccine testing and development.
VA Meters No Longer A Viable Solution
Traditionally bioreactor manufacturers use VA meters in their bioprocesses.  However, with changing bioreactor technology several major factors are impacting how a mass flow controller in a bioreactor must work eliminating VA meters as a viable option.


Miniaturized  design  for  custom  OEM  devices


Automated features for higher performance processes


Preventing contamination events caused by bioreactors


First, bioreactors are becoming smaller. Miniaturized stirred tank bioreactors are cost-effective
solutions for biotechnology industries
that require rapid process developments for smaller-scale experimentations. These bioreactors provide a cost-effective approach that requires consistent, accurate gas flow measurements that can adapt automatically to changing pressures and temperatures.
Secondly, technology is becoming more automated. Bioreactors have high-performance needs as the equipment requires components that can offer repeatability through automation. Relying on manual adjustments impacts productivity as well as increases process costs.
Another major factor regards bacteria contamination from bioreactors. In cleanroom environments, contamination events can create lost batches  in cultures,  lost production time,  compliance issues,  and increased decontamination costs. Using materials that are less prone to contamination or corrosion lowers the risks of a contamination event from occurring.
The legacy design of a VA meter has simply not kept up with the changing technologies that have become available for bioreactors. Manual VA meter controls cannot handle the rapid processes that are needed in the industry while also maintaining reliability and accuracy. High-performance processes will require more automated solutions — ones which the present VA meter cannot provide.
In addition, a VA meter does not come with an output signal and they are not suitable for automatization of your process.  VA meters are extremely sensitive to changes in pressure and temperatures, and a small change in these parameters creates a relatively big error in the indicated mass flow.  This uncertainty creates non-repeatability in your process. Mass flow controllers measure true mass, independent of pressure and temperature, constantly providing an accurate gas mass flow control.
Rock Solid Mass Flow Control Improves Bioreactor Performance
Sierra's proven line of
mass flow controllers for bioprocessing
meets the rigorous demands of the bioprocess industry and supports scientists and manufacturers.
RedySmart
mass flow controllers provide critical gas flow control systems for bioreactors to scale vaccines from lab to pilot to full-scale production.
As we know, bioreactors require precision mass flow control of the gases used to feed the biomass and to ensure proper mixing and distribution. This ensures healthy fermentation.
Smart Design
Combining superior physics, high reliability, and unparalleled flexibility, RedySmart stands apart from competitive offerings.  The RedySmart thermal mass flow meters & controllers are MEMS-based (Micro-Electro Mechanical System) technology. RedySmart thermal mass flow devices contain no moving parts and are unaffected by upstream temperature and pressure fluctuations, resulting in exceptional accuracy and repeatability.  The RedySmart offers a true OEM mass flow control solution with its modular design, cabling system, easy integration into a gas mixing block, and a wide array of digital communications options (Modbus included with no additional charge).  In addition, they are completely automated.
These design capabilities allow for smaller custom sizes that can accommodate different bioreactor sizes, including the miniaturized stirred bioreactors that are becoming the present industry trends.
Maximum Production Stability
RedySmart comes with an ultra-stable no-drift Complementary Metal Oxide Semiconductor (CMOS) sensor to assure maximum production stability required by bioprocessing OEMs. Sierra also offers a lifetime no-drift sensor warranty on the sensor. This feature provides greater production stability for bioprocessing OEMS where long term stability is key. If drift occurs, the sensor will be replaced or repaired free of charge.
Sierra also offers modular customization for bioreactor OEM designs. Many bioreactors will be manufactured to meet the specific needs of the process application. The bioreactors may require standard gases such as O2, N2 or air as well as non-toxic and non-corrosive gases. One RedySmart controller can handle up to 10 gases for just one device. Engineers can obtain flow ranges from 0 to 500 slpm (nlpm) and pressures of 3 – 160 psia (0.2 -11 bara). In addition, our gas flow controllers also handle gas and ambient temperatures ranging from 32 -122°F (0 – 50°C).
RedySmart Advantage


Ultimate OEM MFC-modular, compact footprint, connect power cable & communication system


MEMS sensor stability- Lifetime no-drift sensor warranty


Direct mass flow with thermal technology- no temp or pressure compensation


Precision electromagnetic valve control


Competitive OEM pricing- Cost-effective solutions


Built-in display-mass flow, totalizer, units, set point


Human & Systems Interface-local display readout, configure in field


Fast Set Point Control- response times as fast as +/-80ms


Response time: Meter (GSM): ± 80ms(3); Controller (GSC): ± 500ms(3)


Improved Accuracy
Accurate processes that can be repeated is essential for an automated, high performance bioreactor mass flow controller. Our Sierra  RedySmart MEBS-based mass flow controller offers a standard accuracy of +/- 1.0% of full scale and a high accuracy of up to ± 0.3% of full scale ±0.5% of reading. The controller also offers repeatability of +/- 0.2% of full scale. These higher accuracy ratings are due to our real gas calibration technologies for a wider range of gases.
With Sierra's RedySmart bioreactor mass flow controller, engineers can replace their old VA meters when requiring more stability, accuracy and performance in their flow measurements. The automated features and components offer long term stability and higher performance at more cost-effective prices.
---