Official Blog of Sierra--Let's Talk Flow!
New From Sierra, MEMS-based Thermal MFC's Set the Long-Term Stability Bar – High!
---
Feb 07, 2020

We have been in the capillary thermal mass flow business for nearly 45 years, many have asked us why we recently introduced MEMS thermal mass flow controllers into our product offering.  Combining superior physics, high reliability, and unparalleled flexibility, our new Sierra MEMS-based RedySmart brand mass flow controllers complement our Sierra Capillary-based SmartTrak brand mass flow controllers.
Unparalleled Stability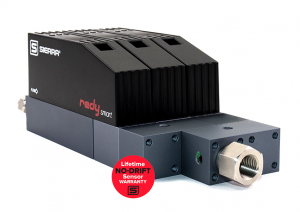 Our RedySmart MFC targets the Biopharm industry where historically, Sierra did not have a product with a perfect fit.  Biopharm OEMs appreciate the modularity, compact size, and price of the RedySmart MFC.  The incredible long term stability is probably the biggest factor.  Making a big statement in the industry, all Sierra MEMS devices, including RedySmart and RedyCompact, come with a Lifetime No-Drift Sensor Warranty for long-term peace of mind for end-users that will rely on these devices for top results.  Sierra is the only company in the industry to stand behind MFC sensor stability claims with a warranty.  Stability is made possible by state-of-the-art high-precision MEMS (Micro-Electro Mechanical Systems) technology utilizing an advanced CMOS  (Complementary Metal Oxide Semiconductor) sensor architecture.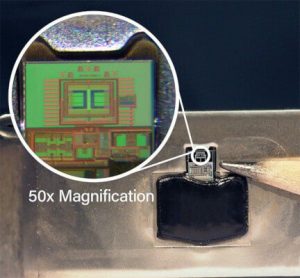 50x Magnification of Redy MEMS Sensor
RedySmart thermal mass flow devices contain no moving parts and are unaffected by upstream temperature and pressure fluctuations, resulting in exceptional accuracy and repeatability.   With a compact footprint, easy integration onto a cost-effective multi-device gas mixing blocks, and a wide array of communications protocols, Sierra can now produce a gas mass flow meter or controller to meet nearly any requirement.
---