Official Blog of Sierra--Let's Talk Flow!
Flow Energy Management Part 3: Three Successful Flow Energy Management Case Studies
---
Jun 11, 2018
As we've discovered in Part 1 and Part 2 of this Flow Energy Management series, determining the best flow meter technology for flow energy management of gas, liquid and steam applications depends on specific measurement goals, fluid, flow rate, turndown requirements, fluid temperature, and flow pressure. In part 3 of this series, let's consider three real-world case studies of companies that have successfully measured compressed air for energy savings, increased steam efficiency in food processing, and improved water loss with accurate water measurement.


Compressed Air Audit Saves Thousands
Air may be free, but compressed air certainly isn't. According to Cary Carlisle, an expert compressed air auditor and seasoned technician from Air Compressor Supply, Inc. (ACS), over a 10-year period, electricity costs make up 76 percent of a factory's operating costs. In many cases, the electricity used by a compressed air system in a factory makes up the largest percentage of an increasingly expensive electricity bill.
To assess the efficiency of a plant, Carlisle always begins with a compressed air audit. In most facilities, usage typically varies widely throughout the day from very heavy at times of peak manufacturing to small flows (perhaps due to leakage) when most production is on standby. With accurate compressed air usage measurements, companies are putting a price tag on compressed air and making educated choices that lead to cost savings.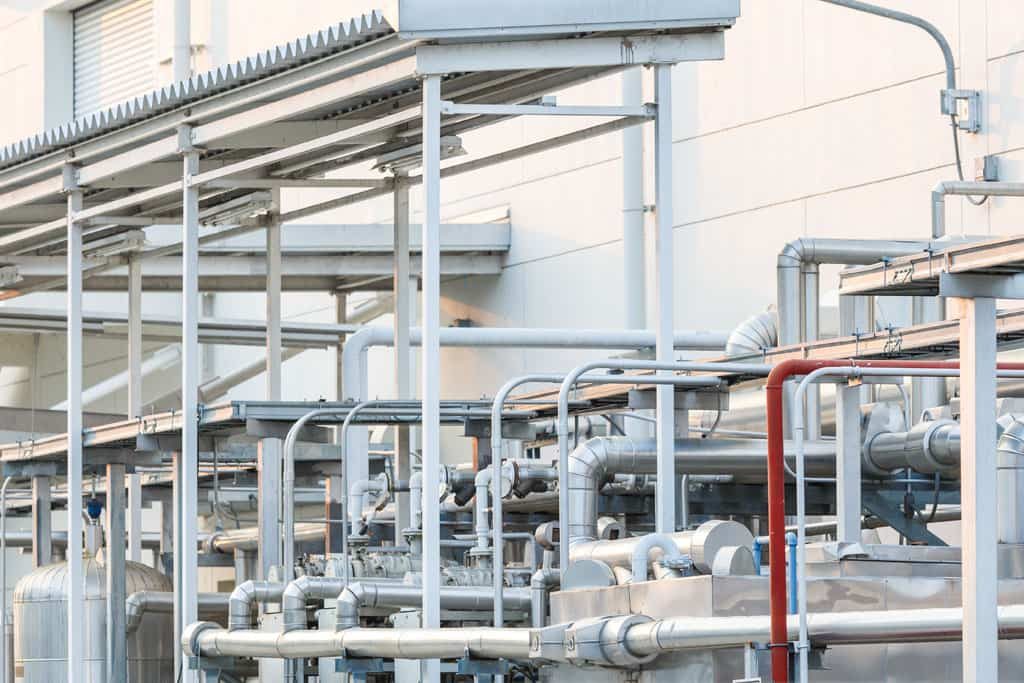 In the past, most companies have used volumetric or non-compensated flowmeters which can present challenges in compressed air measurement. For example, even a small change in operating temperature can result in these instruments showing a 5 to 10 percent reduction in accuracy. Carlisle decided to switch to thermal mass flow meters for his compressed air audits for direct mass flow measurement which is immune to changes in operating temperature. With 100:1 turndown and increased accuracy, Carlisle has reported that customers have experienced a $7,500 to $44,000 annual savings through improved compressed air system management and/or replacing their compressors with more energy efficient units —a substantial cost-cutting investment with relatively short-term payback. In addition, with advanced software apps, Carlisle is also able to give customers actual verification in the field that the meter has not drifted over time.
Thermal mass flow measurement technology offers some key advantages for compressed air measurement:


Direct mass flow measurement requires no pressure or temperature compensation


Operates over a wide range of temperatures and pressures; wide 100:1 turndown


Insertion flow meters with retractor for hot tapping for easy installation


Can save companies between $7,500 to $44,000 annually with improved compressed air system management


Software apps allow for in-situ validation, diagnostics, and tuning


Crab Processing Plant Increases Efficiency & Food Quality
A large seafood processing plant needed to find a way to better manage its steam to flash-cook thousands of pounds of freshly caught crab daily in clean steam. The processing plant uses freshly caught crab, the highest grade of steam, clean steam, usually raised from purified water in a dedicated clean steam generator to flash cook the crab. The crab come in direct contact with the steam to cook at an exact temperature that assures the crab will both be safe to eat and cooked to perfection. Effectively measuring the temperature, pressure and flow of the steam in this process is essential to achieving the best quality crab and maximizing the efficiency of the plant's process.
Previously, the plant used volumetric orifice plates for their steam measurement, which had three key disadvantages:


The orifice plates did not measure pressure and temperature at the same point, which led to errors in mass flow measurement and affected product quality and steam efficiency


Installation costs increased because they needed to buy temperature and pressure sensors along with multiple pipe penetrations


Maintenance costs increased due to pressure-sensing ports plugging and orifice plates wearing out, a major issue in crab processing because the plant needs to run 24/7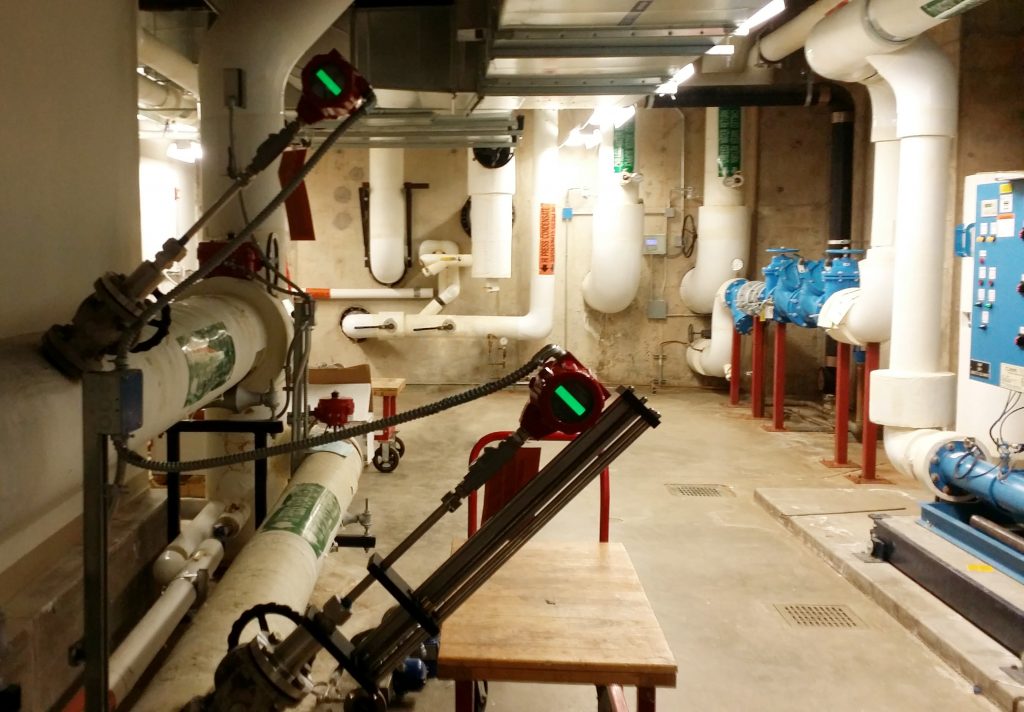 Multivariable insertion vortex flow meter with retractor for hot tapping is ideally suited for steam applications
Switching to an insertion multivariable vortex flow meter provided the plant some key advantages:


Lower cost-of-ownership by using one meter with one process connection to measure up to five process variables — volumetric flow rate, mass flow, density, pressure and temperature


Decrease in downtime and installation costs by hot tapping meter with the onboard retractor


Onboard software apps with meter tuning to perfectly adjust the meter to the application


Software apps for diagnostics to verify that all meter parameters are working to spec


Ability to print validation certificate in-situ to meet food industry regulations


Mid-size Water Company Improves Water Loss Calculations
Most Americans receive water service from community water and wastewater utilities. It is less known that private water companies own nearly 16 percent of the nation's community water systems. Carmel Riviera Mutual Water Company is one such small rural water company. The company serves up to 600 homes located along California's beautiful and rugged Big Sur coast.
Historically, estimated annual water loss rate through leaks, waste, evaporation and other losses is around 30 percent of the total produced water. The company budgeted almost $60,000 per year in initiatives to reduce these leaks, including labor and materials for surveys and expensive repairs. In their efforts to expand operational efficiency, Carmel Rivera implemented clamp-on ultrasonic flow measurement technology.
After six months of using the clamp-on ultrasonic liquid flow meter, Carmel Riviera found their actual loss rate to be only 12 percent of their production — uncovering an 18 percent discrepancy in original water loss estimates. The improved production and usage figures derived from the ultrasonic meter enabled the utility to significantly reduce its $60,000 annual maintenance and operations budget to target more funding on improving conservation and efficiency.
Key advantages of clamp-on ultrasonic liquid flow meters for water usage applications include:


Clamp-on sensors are very easy to install with no pipe intrusions


One meter for a wide range of pipe sizes from 2 to 236 inches (50 to 6000 mm)


Highly accurate (+/- 0.5 percent of reading)


Reduces maintenance costs by providing accurate usage rates


Software apps make set up quick and simple with "goal post" visual to get a strong signal


Software apps include complete data logging and analysis tools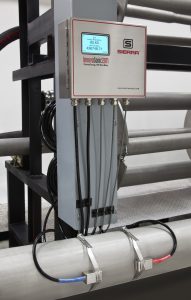 To learn more about flow energy management and flow energy applications, check out Part 1 and Part 2 of our Flow Energy Management series or talk to a flow expert today.
---