Official Blog of Sierra--Let's Talk Flow!
Providing Precision Flow Control Solutions for Critical Biomolecular Research
---
Apr 29, 2016
When scientists at the University of Nottingham's Centre for Biomolecular Sciences (CBS) in the United Kingdom needed instrumentation to control the flow of gases in their research, they turned to Litre Meter, a UK distributor for Sierra Instruments, and the SmartTrak 100 series mass flow meters and controllers.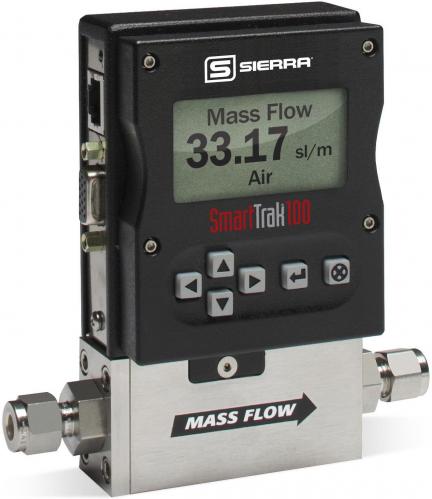 The working relationship between Litre Meter and the CBS started more than 20 years ago, with the company supplying flow meters and mass flow controllers for a number of research applications, as well as calibration services as needed.  For this newest application,  the SmartTrak 100 digital mass flow controllers  provided researchers with precision mass flow control for critical research in stem cell biology, tissue engineering, and molecular and cellular bacteriology.
"The sheer range of research that is carried out at the CBS and the fact that its researchers in various groups select Sierra Smart-Trak mass flow controllers for their work is a testament to the versatility and reliability of the SmartTrak 100 series," says Litre Meter CEO Charles Wemyss.
The SmartTrak 100 flow controllers allow CBS researchers to measure flow ranges from 0-10 standard cubic centimetres per minute (sccm) up to 0-500 slpm or any custom range in between. High reliability was also a requirement, and the flow controllers deliver a measurement accuracy of 1.0 percent full scale with an optional high accuracy of of 0.5% as they needed. SmartTrak also incorporates Sierra's state-of-the-art Dial-A-Gas®. Its internal microprocessor is pre-programmed with ten of any gas they desire that are commonly used in biotech, pharmaceutical, analytical and research applications—other gases can be substituted to customize the flow meter for specific applications. This technology allows CBS researchers to use the SmartTrak for multiple applications, adjusting them off the shelf to have greater flexibility as well as helping to reduce inventory.
CBS is just one example of how our distributors around the world provide the solutions you our flow control customers need to meet challenging demands in a variety of fields. From life sciences and health to analytical to general research, Sierra Instruments's mass flow meters and controllers provide you with the precision you need.
Are you looking for the perfect flow solution? An installed base of  more than 100,000 devices working every day can't be wrong. We have 150 locations in 50 countries ready to support you. Find your expert today.
---