QuadraTherm® qMix RealTime
Flare Measurement System
Measure Flare Gas in Real Time
Meet EPA rule 40 CFR 63-measure flare gas down to 0.1 sfps (0.03 smps) where ultrasonic flow meters can't operate
Handles upset conditions at ultra-high flows with wide 1000:1 turndown
Easy to install with current ultrasonic flow meters-no process shutdown
Use qMix RealTime App to connect, read, and update new flare gas composition from a GC-real time, no recalibration needed
Set update frequency by time or by percentage change in the gas composition
Get flow and composition trend analysis, flow alarming and triggers
Content Sections:

Overview
Product Benefits
Specifications
Documents & Downloads
Applications
Industries

---
Overview
Composition NOW Updates Automatically with qMix RealTime Flare Measurement System
Sierra's breakthrough (FMS) delivers real-time flare gas flow measurement to accurately measure flows down to 0.1 sfps, meeting the full range of EPA regulations. For the first time with thermal technology, flow rate accuracy adjusts to flare gas composition changes within seconds to match real-time readings from a gas chromatograph—retaining accuracy without factory recalibration (See figure below).
Meet EPA Petroleum Refinery Rule 40 CFR 63
Now Plant Engineers have the perfect solution to comply with EPA Refinery Sector Rule 40 CFR 63 rule which requires refineries to measure and report flare gas measurement at flow rates as low as 0.1 fps (0.03 mps).
Traditionally, refineries have used mutli-path ultrasonic flow meters to meet these regulations, but these instruments have limitations at flows lower than ~0.1fps. Instead of investing in costly infrastructure upgrades, easily integrate Sierra's qMix RealTime FMS with your current flow meters to meet the low end of the EPA's requirements at a fraction of the cost.
An Integrated System
Integration with your current system is fast and easy, and we offer full commissioning from our team of engineers. The qMix RealTime FMS integrates with your current compositional gas sampling device or a gas chromatograph to give accurate flows over a large turndown. When the gas composition changes, the qMix RealTime App, loaded onto the supplied laptop or computer, reads the outputs from a gas chromatograph for updated flare gas composition. qMix RealTime creates a new gas composition to match the gas chromatograph composition and automatically updates the 640i/780i thermal mass flow meter to adjust the flow rate to account for its new gas composition.
qMix RealTime App-Adjusts on the Fly
Real-time measurements with are only made possible by utilizing the power of the evolutionary qMix RealTime App. Based on the NIST library gas database, the App has a library of over 120 pure fluid components with gas properties to create any natural gas or mixture. qMix RealTime App allows for 20 gas components, 20 Modbus fluid composition registers, and the ability to increase accuracy by using AGA-8 density values. Real-time flare gas measurement intervals can be set to every minute, daily, hourly, and weekly.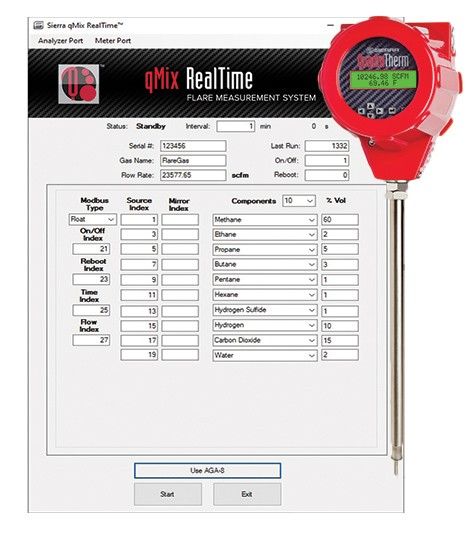 Beyond Traditional Thermal
The qMix RealTime FMS harnesses the accuracy and computational power of QuadraTherm thermal mass meters and proprietary qMix RealTime software App. Unlike traditional two-sensor thermal mass flow meters, QuadraTherm has four sensors-three precision platinum temperature sensors and one patented no-drift DrySense mass velocity sensor. With this sensor technology breakthrough, accuracy is now twice as good as conventional thermal meters at +/- 0.5% of reading. Flow range is extended to ultra-low flows down to 0.1 sfps (0.03 smps) to extreme high flows 120,000 sfpm (600 smps) with a 1000:1 turndown, enabling high accuracy over a wide range.
Product Benefits
Meet EPA rule 40 CFR 63 for flare gas measurement at ultra-low flows down to 0.1 sfps (0.03 smps) where ultrasonic flow meters can't operate
Handles upset conditions at ultra-high flows with wide 1000:1 turndown
Easy to install with current ultrasonic flow meters-no process shutdown
Use qMix RealTime App to connect, read, and update new flare gas composition from a GC-real time, no recalibration needed
Set update frequency by time or by percentage change in the gas composition
Get flow and composition trend analysis, flow alarming and triggers
Specifications
Highest Accuracy: +/- 0.5% of reading (inline) ; +/- 0.75% of reading (insertion)
Measure flow from 0.1 sfps to 120,000 sfpm (0.03 - 600 smps)
Wide turndown of 1000:1
qMix RealTime App
Multivariable: Mass flow rate, temperature and pressure
In-situ calibration validation
Patented QuadraTherm four-sensor design
DrySense no-drift sensor with a lifetime warranty
Sierra's fluid library, improves over time
Multi-language capable
Digital communications: Foundation Fieldbus, HART, Modbus RTU, and Profibus DP
Hazardous-Area Location Enclosure (IP66)
Approvals:

cFMus–Explosion proof for Class I, Div I, Groups B,C,D
ATEX
IECEx
GOST R
Chinese Pattern
CE–European Conformity