Flare Gas Measurement Flow Meter Applications
One Thermal Flow Meter Manages Gas Composition—In The Field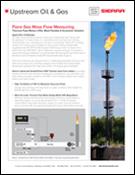 Oil wells almost always produce natural gas ("associated gas") along with the petroleum. In many cases, it is uneconomical to process due to heavy contamination. As a consequence, this gas is combusted, "flared" or simply vented as-is during upset conditions in the process. Newly updated EPA regulations like 40 CFR Part 60 Subpart OOOO (also known as Quad O) as well as the new RSR MACT rule for refineries, requires oil & gas companies to report the flare gas emitted to our atmosphere. Monitoring the fuel at the inlet of the flare is part of meeting these EPA requirements. Our QuadraTherm thermal mass flow meters with qMix gas mixing software are ideal for flare and combustion gas flow measurement.
Breakthrough Technology Meets Tough EPA Refinery Regulations
Now oil & gas engineers can meet tough EPA Refinery Rule 40 CFR 63 rule for the low end of the flow requirement down to 0.1 sfps where ultrasonic meters just can't operate-at a fraction of the cost with Sierra's new QuadraTherm qMix RealTime Flare Measurement System.
Flow Meters for the Oil & Gas Industry

Insertion Thermal Mass Flow Meter for Boiler & Heater Efficiency

Industry's Most Accurate Air / Gas Thermal Insertion Mass Flow Meters

Highest Air/Gas Mass Flow Measurement Accuracy in Industry

Insertion Gas Mass Flow Meter

Inline Thermal Mass Flow Meters with Flow Conditioning

QuadraTherm® qMix RealTime
Flare Measurement System

Related Videos
Related Application Tech Notes
Related White Papers