Official Blog of Sierra--Let's Talk Flow!
Breaking the Ice: Antarctica Researcher Meets Sierra's 'Smart' Mass Flow Meter
---
Dec 13, 2011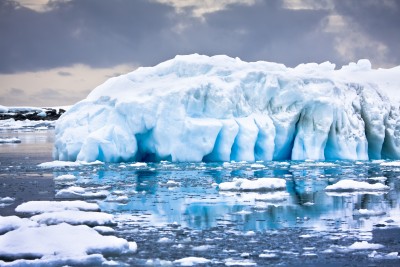 Working here along California's Central Coast in Monterey, I don't often get to experience a White Christmas or snowball fights or even the excitement of schussing down the slopes (unless I travel 4 hours to Lake Tahoe, Northern California). So, it's really tough for me to imagine the frigid, barren conditions of the coldest place on earth – Antarctica.  But David Mucciarone knows the continent as well as any human can. A researcher and lab manager at Stanford University in Stanford, Calif., David travels to Antarctica annually to measure the breakdown of inorganic carbon to learn how much carbon dioxide the ocean can absorb. His R&D work is critical to the ongoing study of global warming.
Even though Stanford is just 90 minutes north of Monterey, David had never crossed paths with Sierra Instruments until just a few short days before his trek to Antarctica in 2008. The mass flow controller in his CO2 monitoring equipment failed, and he needed a reliable replacement, STAT. So, at the recommendation of a colleague, he purchased a Sierra Smart-Trak® Model 100 for mass flow control. And, despite extreme cold (which has dipped down as far as -129 degrees Fahrenheit! Yikes!) and more than two months aboard an icebreaker ship that plows through thick ice, our flow meter never failed him.
Like many researchers, David wasn't concerned about how the Smart-Trak provides the world's most linear design, super smooth valve performance, robust electronics and control over a wide range of functions. What he cared about was having CO2 monitoring equipment with mass flow control he could depend on, even in the roughest, most unforgiving place in the world. That's the peace of mind we love to provide our customers with.
If you're a scientist who uses gas monitoring equipment that must perform under extreme conditions in the field or lab, you'll love what a Sierra flow meter can do for you.


Rugged yet easy-to-use flow meter design that delivers exceptional mass flow control despite the elements.


Our digital high-performance flow meters that can be configured and purchased online any time of the day or night. We're available when you need us!


Forget about shipping the unit back to the factory to reconfigure it if your application changes.   With our Smart-Trak Pilot Module readout device, you can easily change:  gas type (up to nine alternate gases), setpoint value, setpoint source and much more using our innovative Dial-a-Gas® feature.


Daisy chain air-flow sensors and high-flow valves in a snap with our Compod™ Programmable Control Module.


Let us know what your toughest R&D project requires. I'm confident we've got a flow meter that's up to the task.  We're here to support your research.
---