Ultrasonic Liquid Flow Meter With Thermal Energy/BTU Capability
InnovaSonic®207i
High accuracy transit-time ultrasonic technology
Software apps for ease of installation & diagnostics
Optimized for thermal energy/BTU measurement
Clamp-on sensors, no pipe cutting, no shutdown
Real-time liquid density compensation
Upgrade meter firmware and software in the field
Part of Sierra's Big-3 iSeries family of flow meter technologies, Learn more >
Content Sections:

Overview
Product Benefits
Specifications
Documents & Downloads
Applications
Industries

---
Overview
What does it mean to challenge the status quo?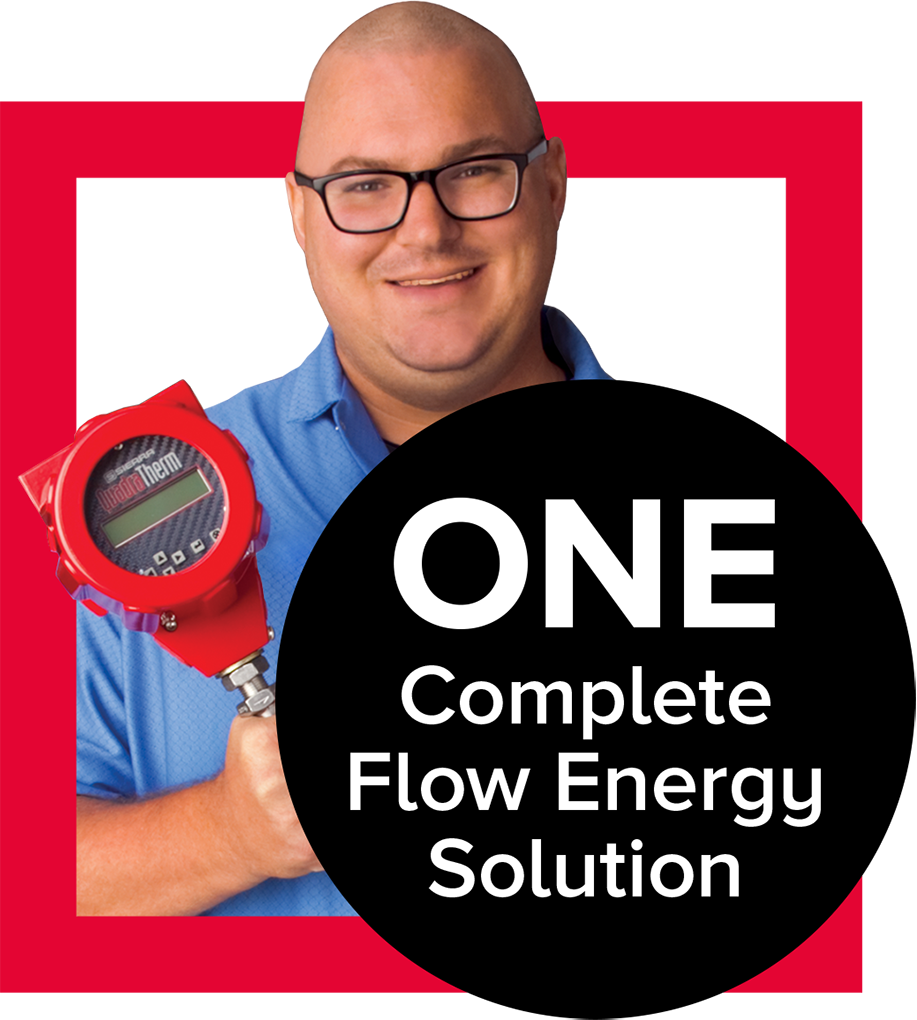 Designed, built and calibrated by Sierra for non-intrusive liquid flow metering, and optimized for thermal energy / BTU measurement, the InnovaSonic 207i transit-time ultrasonic flow meter is the ideal turnkey solution for building and district metering, and submetering. Watch video to learn how to increase efficiency with hot/chilled water BTU measurements.
It Has Apps
The 207i is the first transit-time ultrasonic flow meter to come with a comprehensive software package of apps for ease of use, field upgrades, and calibration validation. Apps like MeterFit help you optimize signal strength to assure best performance. Apps like EnergyPro allow you to fully configure your thermal energy / BTU flow energy measurement system, including datalog-ging and totalization of all energy functions. Apps like ValidCal Diagnostics make field calibration validation easy.
Sierra has many more apps under development to enhance your product experience.
Higher Accuracy With Liquid Density Compensation
The 207i firmware enables vast improvements in liquid flow metering accuracy. Since an ultrasonic flow meter detects the speed of sound in the liquid being measured, a small change in liquid density can have a big impact on accuracy and repeatability. By adding a temperature input from a transmitter provided by Sierra or by using an external input from an existing transmitter, the 207i can calculate real-time liquid density, assuring the highest accuracy possible.
Thermal Energy / BTU Metering
The 207i calculates thermal energy / BTU flow energy and provides you with the highest accuracy measurements possible to manage energy costs.
A critical element of any thermal energy / BTU flow energy measurement is determining the amount of heat transferred between the cold and hot flow legs of an HVAC process.Often with only a small difference in temperature between the two flow legs, a precise measurement makes a huge difference. Sierra calibrates the entire flow energy package— flow meter and temperature transmitters—as a system to improve quality.
The 207i takes into account this temperature difference as well as all fluid properties required to accurately measure flow, and makes ultra-precise temperature measurements between the cold and hot flow legs.
The Flow Engine Behind it all
Sierra's Raptor 2 OS is the true "Brain" of the 207i. Every 207i has advanced digital signal processing to enhance ultrasonic transit-time flow metering technology and fluid dynamic measurements. The result is a proprietary, fundamentally different liquid flow rate calculation using all pertinent variables for the most precise, stable and accurate flow measurement possible.
The OS interfaces with Sierra's software apps to read, adjust and upgrade the meter firmware in the field.
Making Installation Easier
With the InnovaSonic 207i's clamp-on sensors, there's no pipe cutting or expensive plumbing.
The 207i features a large backlit display and dual-function keypad with audible feedback. With its visual sensor spacing tool on the local display or using the software app, slightly move the sensors together or apart to position the indicator line between the "goal posts" and assure optimal signal strength.
World Class Calibration
Every flow meter is only as good as its calibration. To assure the highest accuracy possible, each InnovaSonic is calibrated at Sierra's flow calibration facility in Monterey, California which consistently delivers calibration accura-cies of +/- 0.2% of reading.
All calibrations follow the guidelines of ISO 17025 and are directly traceable to national standards such as NIST (United States National Institute of Standards and Technology).
Fully automated, once flow application data is programmed, calibration automation software manages all aspects of flow calibration testing. High-speed time-aligned data acquisition and performance analysis over the entire flow measurement range occurs. A calibration certificate documenting instrument per-formance is then generated.
Service, Commissioning & Training
The need to deliver fast, localized support to global customers has resulted in the establishment of dedicated Sierra Flow Centers on almost every continent. And they are backed up by technical experts in over 150 locations in more than 50 countries.
Sierra's team of engineers can commission your flow meter to assure optimal performance and train you to get the most out of your instrument.
We provide lifetime support for all Sierra products and will even get on a plane to provide support when needed.
Sierra's Big-3 Technologies
The InnovaSonic 207i is one of three advanced flow meter technologies Sierra has developed to help facility managers tackle tough energy management challenges.
For what we call our Big-3, Sierra has become a recognized expert in thermal mass (QuadraTherm®), vortex shedding (InnovaMass®), and transit-time ultrasonic (InnovaSonic®). Sierra is the only company in the USA to manufacture all three flow technologies.
The Big-3 are optimized to be a complete solution for flow energy measurement—facility flows that impact costs like compressed air, natural gas, steam, and hot or chilled water. As new apps and improvements become available, all Big-3 technologies benefit and are field firmware upgradable.
Common applications include:
Thermal energy/BTU measurement
Cooling and heating fluid measurements
Water and wastewater measurements
Leak detection in piping systems
Monitoring and controlling of HVAC systems
Fuel and oil consumption measurements


Contactless product recognition
Interface detection
Offshore applications
Automated process control
Product Benefits
Designed for liquid flow metering applications
Thermal Energy/BTU capability
Tolerant of liquids with small amounts of air bubbles or suspended solids
Ideal for large line sizes or exotic materialsClamp-on standard, insertion transducers available
Transducers clamped to outside of pipe
Install meter during plant operations-no process shut downs, no leakage risks
No moving parts to clog or fatigue like turbine meters
Permanent or temporary installations
Immune to the process compatibility concerns
Operational safety and robustness
High zero stability, nearly drift free
Optional clamp on or insertion PT 100 RTDs transducers-
matched pair and temperature compensated
Mounting kit included to lock transducer into place
Modular electronics enabling field upgrades

Large display with push buttons, user-friendly menu
Keypad with 16 tactile keys with 14 dual-function keys with audible feedback
Internally configured batch controller makes batch control convenient
Daily, monthly and yearly totalized flow rate
Positive, negative and net flow totalizers (with user selectable scale factors)
16 MB SD card high-memory data logger
Easy Installation with Smart Interface Portal Software (SIP)
Field validation/configuration to assure operating performance with SIP
Local display with Quick key buttons for:

Flow, totalized flow
Velocity
Fluid
Signal and diagnostics

Configurable pulse, analog and frequency outputs
Fully field configurable
Compact, low-cost alternative to Coriolis meters
Specifications
Accuracy: +/- 0.5% of reading from 0.16 to 40 ft/s (0.05 to 12 m/s)
Repeatability: +/- 0.15% of reading >0.16 ft/s (0.05 m/s)
Flow Velocity Range: Bi-directional flows: 0.16 to 40 ft/s (0.05 to 12 m/s) Note: 0.08 ft/s (0.025 m/s) is the default low flow cut-off
Pipe Size: 2 to 236 inches (50 to 6000 mm)
Resolution: 0.01 ft/s (0.00025 m/s)
Response time: 150 ms measuring cycle
Temperature: ambient electronics: -4°F to 140°F (-20°C to 60°C)
Clamp-on transducers operating temperature range: 14°F to 176°F (-10°C to 80°C)
Clamp-on high temperature transducers operating temperature range: 14°F to 302°F (-10°C to 150°C)
1.5 in (38.1 mm) insertion DIA transducers; operating temperatuer range: -40°F to 176°F (-40°C to 80°C)
Insertion pressure limited to 300 psig (20 barg)
Relative Humidity: Up to 99% RH, (non-condensing)
Power Supply

90 to 250 VAC, 48 to 63 Hz and
10 to 36 VDC (both are available on each unit)
Power consumption <10W, 5V @2A fused

Analog Output: Active or passive 4-20 mA current loop; accuracy 0.1% of reading
Pulse Output: 0 to 9999 Hz, OCT, (min. and max. frequency is adjustable)
Solid state relay, 250 VDC/VAC max, 100 mA max, 40 Ohm max on-state resistance no/nc (SPDT)
Digital Output: RS-485, RS-232, optional Modbus RTU, optional BACnet
Display: 160 x 240 LCD backlit display
Boiler MACT certified
Complete Smart Interface Portal (SIP) for meter set up:

User-centered software allows for easy installation and field validation via USB or RS-232.
Includes Apps like:
Quick Install: Step-by-step meter commissioning and setup
MeterFit™: Makes transducer set up easy for a strong signal
EnergyPro™: Step-by-step thermal energy/BTU setup
ValidCal Diagonstics™: Validate firmware hardware health

View All Specs