Official Blog of Sierra--Let's Talk Flow!
Boost Bioprocessing Efficiency by Choosing the Right Gas Mass Flow Controller
---
Mar 26, 2020
We can all agree that our economics and external drivers have changed in the last four weeks. The emergence of COVID-19 has changed the way we work, socialize and think about the world. In Sierra's 45 year history, we also have not seen such a shift in our flow control industry from a slower-moving mature market to critical demand for instruments. Demand for accurate gas flow control for the fast-moving bioprocessing industry is now at the center of our economics. Scientist are fighting hard to quickly find a vaccine for COVID-19, ventilator manufactures are ramping up production to supply hospitals with this life saving equipment, and R&D labs have never been more valued by our country. Single-use bioreactors to full-scale production bioreactors require stable and repeatable gas supply systems to deliver a precise supply of oxygen to the bioprocess. Stable gas flow control maximizes cell culture yields and lowers bioprocessing costs. Due to the critical nature of the biotechnology industry, it's essential to select the best bioprocessing mass flow controllers for your bioprocessing solutions.
Choose the Best BioProcessing Mass Flow Controller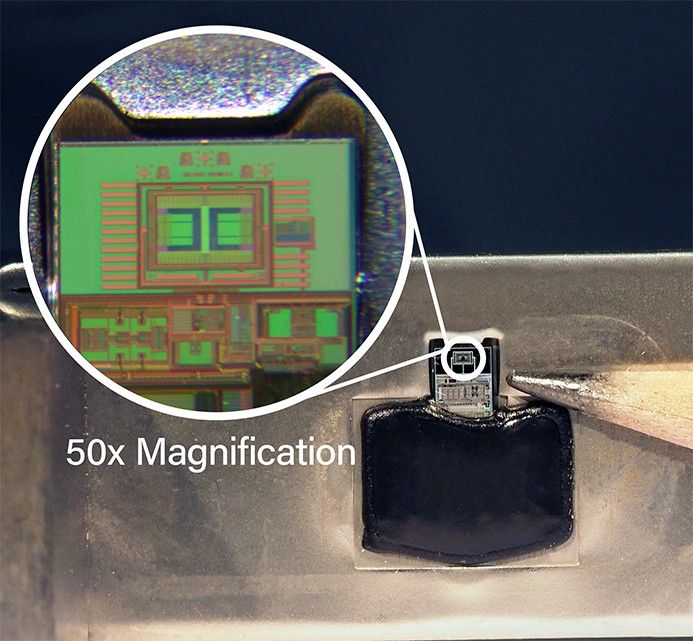 Researchers must control the gas flow variables into their experiments to trust the data. Most biopharm mass flow controllers have an accuracy +/- 1.0% of full scale, but few can claim long-term sensor stability. Some thermal mass flow controllers are based on MEMs (Micro-Electro Mechanical Systems) technology utilizing an advanced ultra-stable no-drift CMOS (Complementary Metal Oxide Semiconductor) sensor. MEMS sensors don't drift over time which can be a huge competitive advantage in bioprocessing OEM applications where long term stability is essential. Sierra's MEMS bioprocessing MFCs offer a lifetime, no drift sensor warranty to ensure stability which increases bioprocessing efficiency.
Modularity & Flexibility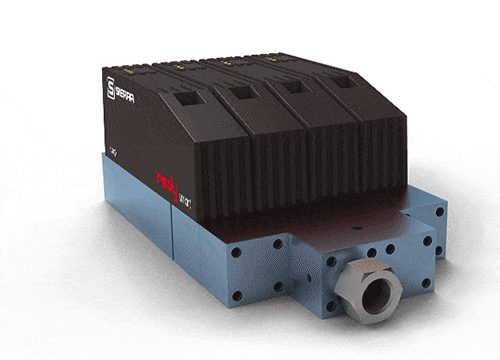 For OEMs and research manifold systems, the "plug & play" design of some bioparm mass flow controllers make it easy to integrate into a bioreactor design or set up a gas flow control manifold. Modular design allows flow controllers to be stacked into a gas block with a minimal footprint. Inlet and outlet configurations are flexible and can be easily integrated into your instrumentation, like bioreactors. Easy connect power and cabling systems make set up painless and can adapt to specific requirements with both analog and digital options.
Easy Communications
For ease of use, a local display readout that communicates key flow data is important along with the ability to configure via software. Modbus RTU and analog outputs, and industrial ethernet (EtherCat and Profibus) make it more efficient to communicate and integrate with your system.
Fast Delivery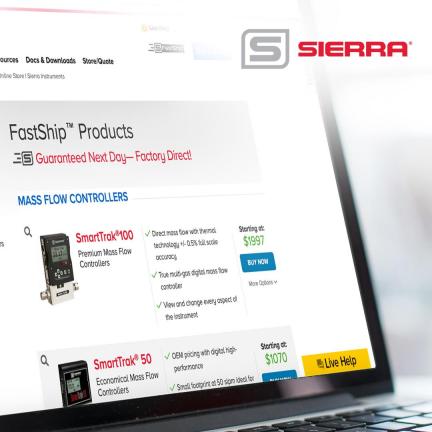 Most flow meter companies have a standard lead time of 4-6 weeks. But there are times you need a flow controller fast. Some MFCs are available online for next day delivery and localized support. Sierra's online store offers all mass flow meters and controllers for next day shipment. Sierra's RedySmart MEMS mass flow controller is the ultimate biopharm mass flow controller, offering a lifetime no-drift sensor warranty, modular design, and easy to connect communications. Now more than ever we do "understand flow is tough". But we CAN solve this together. We can solve any gas flow control challenge you may have with our team of engineers. Watch the video to learn more: RedySmartTM : The Ultimate OEM Mass Flow Controller
---