Official Blog of Sierra--Let's Talk Flow!
The 'Swiss Army Knife' of Mass Flow Controllers
---
Oct 31, 2016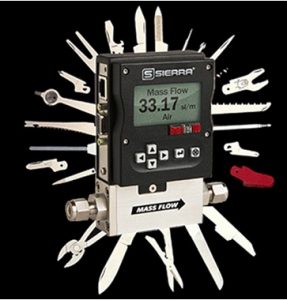 Did you ever wish your mass flow controller could do it all? You're not alone.
End users ranging from machine builders to laboratory researchers are often faced with the challenge of needing flow measurement and control equipment for a wide variety of applications.
Many customers call the SmartTrak 100 mass flow controller the "Swiss Army knife" of MFC's.
Finding a versatile mass flow controller that can be quickly changed to handle an array of flow measurement challenges can be a daunting task—until now.
What to Look for When Purchasing a Mass Flow Controller
Accurate price comparisons: Did you know 20 standard liters per minute is the typical cut off before you're forced into a larger, more expensive mass flow controller?
SmartTrak is the only MFC in the industry that controls mass flow rate up to 50 standard liters per minute in a single compact Semi-Spec footprint, just a mere one inch wide by three inches long in size. This means you don't need to jump to a larger size, more expensive MFC if you are running higher flows. Compare SmartTrak pricing head to head with other MFCs at flow rates from 20 to 50 standard liters per minute, and you'll find as much as 75% savings.
Compare flow rate spec with meter footprint: Many companies sell mass flow controllers that jump to a much larger body over 50 slpm so the footprint of the meter doubles in size and increases in price to handle the higher flow rate. SmartTrak provides over twice that flow range, controlling flow anywhere from zero to fifty standard liters per minute, in a single, compact, one-inch by three-inch footprint. At no extra charge.
Look at delivery time and extra fees for expedited orders: Sometimes you need equipment in a hurry. How long will it take to receive your flow controller, and what are the fees to expedite your order?  Configure and buy Sierra mass flow controllers at our online store for next-day shipment with no expedited delivery fees. If you need something special, Sierra customizes and provides specialty tuning, often free of charge.
NIST traceable calibration and flexible calibration options:  What calibration options are available, and are they NIST traceable calibration certified? If you prefer to calibrate and maintain your own mass flow controllers, Sierra provides the training and software to do it. If not, we also have certified calibration facilities to service your mass flow meters and controllers.
Ease of adjustment: How easy is it change settings? With a remote or face mounted pilot module display/interface, view and change every aspect of SmartTrak at any time with the push of a button. Simply choose a gas from the menu and it's ready to go, without losing any accuracy. You can also adjust engineering units, flow range, and set zero, span and full scale independently for each gas.
Accuracy is not only vital in flow measurement and control, but is also vital when deciding which MFC to purchase. Follow the guidelines above to make sure you're comparing apples to apples and making an informed decision when selecting the best mass flow controller for your high flow rate related application.
---