Official Blog of Sierra--Let's Talk Flow!
Decade in Review at Sierra Instruments
---
Jan 06, 2020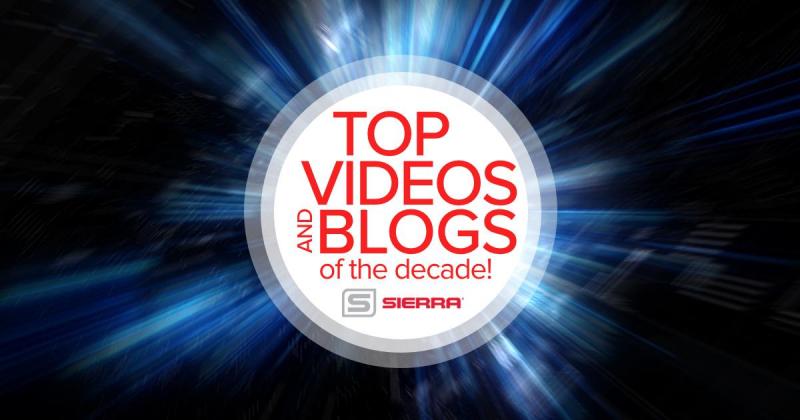 Welcome to 2020!
The last decade was quite a ride with lots of twists and turns. It's hard to re-cap it into words, but as we begin 2020 here's a quick look at the top 5 blogs and videos of the last decade. These resonate to you for a common reason -all are teaching more about flow measurement and control. So, we will continue this theme in 2020!
Sierra's major drive in the last decade was to invent best of class products for all gas, liquid, and steam flow measurements. This was kicked off in 2012 by launching the most accurate flow meter in the world- QuadraTherm with qMix for real-time gas measurement. Next was reinventing the next generation  vortex mass flow meter, the InnovaMass 240i/241 in 2015. Finally, we launched our own ultrasonic flow meter, the InnovaSonic 207i  for Liquid Flow With Thermal Energy/BTU Capability. In 2020 we have more exciting additions to our scientific line coming as we round out our complete flow meter offering.
As the new decade begins, we are hopeful for a great future and to continue to provide you with innovate flow solutions to help you meet your flow measurement needs.
Here's to whole new year of possibilities!
Your Favorite Blogs & Videos of the Decade
The Most Watched Sierra Videos of the Decade
1. How Thermal Mass Flow Meter Technology Works
Learn the principles of operation in thermal mass flow meter technology and how thermal dispersion mass flow meter technology works.
2.  FlatTrak Conquers Precise Measurement of Unstable Flow Profiles
An oldie, but goodie. This video has tens of thousands of views over the past decade.
3. Delivering a High-Performance Vehicle Engine Testing Facility
See how Sierra helped Honda technical partner, Mugen, build a new high-performance vehicle testing facility for a wide variety of racing engines from World Touring Car to Le Mans to Formula 1.  
4. Flow Meter Installation: How to Set Up, Mount & Leak Test Your 810 Mass Flow Controller
Proper mass flow meter installation is key to accurate flow control and measurement. Learn how to unpack your mass flow controller, mount your flow controller with the correct orientation, install tubing/piping and check for leaks.  
5.  In-Situ Thermal Mass Flow Meter Calibration Validation
One of the great benefits of thermal mass flow meter technology is in-situ calibration validation. See how the DrySense sensor stability found in Sierra thermal mass flow meters is the only way in-situ calibration validation is actually valid.
Top 5 Blogs







---