Official Blog of Sierra--Let's Talk Flow!
Part 2: Accurately Measuring Flare Gas — Innovations Promise More Economical Choices
---
Mar 03, 2014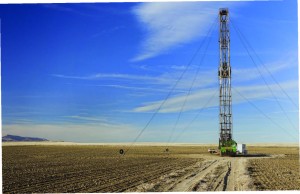 In my last post on flare gas flow measurement, I shared how the rise in hydraulic fracturing has led to more stringent state and national mandates to regulate the measurement of waste and excess gases that are produced as a result of this process. If you're affiliated with an oil or gas company, you know that the cost of compliance can be steep. You need a flow meter solution that not only provides accurate measurement, but one that is cost-effective as well.
Enter the four-sensor thermal mass flow meter, which takes advantage of recent innovations in thermal mass flow sensor technology to provide users with flexibility in the field while still maintaining accuracy. But more on the many benefits of QuadraTherm air flow meters in my next post. For this installment, I want to focus on why current flow measurement technologies may not provide you with the best solution for your company's flare gas measurement needs.
Flow Meter Accuracy Concerns
Over the last five years, multi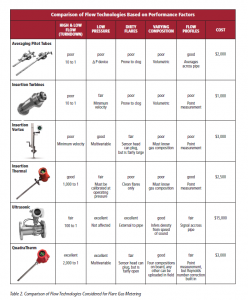 -path transit-time ultrasonic meters (typically four-path) have been used for flare gas measurement. Given the flare gas measurement challenges they face, multi-path ultrasonic flow meters perform very well. But in some applications, dirt, wax, tar, and paraffin in the flow causes internal erosion or build-up of material on the inner wall of the pipe. This degrades the flow measurement accuracy without obvious indicators.
Since multi-path ultrasonic meters are built into in-line pipe sections, called spool pieces, the entire meter must be removed to clean and re-condition them. Susceptibility to the effects of flow profile, especially swirl, will also cause degraded accuracy. In addition, the cost for a four-path ultrasonic flow meter is several times more (as much as 10x) than the traditional flow meters.
Other technologies such as averaging pitot tubes and insertion turbine meters have poor performance for measuring flare gas. These devices measure volumetric flow, not mass flow which is the desired measurement. They require a clean flare gas with constant gas composition. Additionally, even though we first invented the multivariable mass vortex back in 1997, these meters successfully measure low pressures of flare gas, but they need to know the gas composition for accurate measurement.
For more comparisons of technologies used for flare gas measurement, download my white paper, Flare Gas Mass Flow Metering: Innovations Promise More Economical Choices. Let's keep innovating! And check back for my next installment on the benefits of four-sensor thermal mass flow meters, a true breed of their own in measuring flare gas more accurately.
---